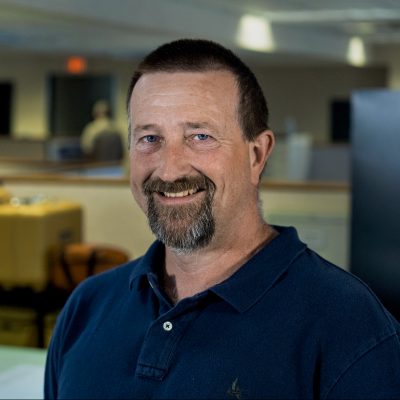 Robert Prescott
Survey Field Technician
rob.prescott@sewall.com
Rob joined James W. Sewall Company in 2014 as a technician in the surveying and GPS group. His responsibilities include records research, fieldwork, CAD, and survey calculations. He has been surveying since 1993 and has experience using several brands of survey equipment and software packages to collect data including GPS, Robotic, Hydrographic and Scanning devices. His field experience includes land surveying, construction layout, structure verification, photo control, and LiDAR quality control. Rob is resourceful and determined and has done many jobs for Sewall both in and out of state reaching north into Canada, west to California and south to the Rio Grande in Texas.
His time off is enjoyed by spending time with his wife and three young children ages 2-8. Among other things, he likes to teach his 6 and 8-year-olds to be self-sufficient by working with them in the garden and also collecting wild foods. On the very rare occasion when he has "extra" time, he likes to fall back on his old favorites; hunting and fishing.
EDUCATION
A.A., Liberal Arts, University of Maine, Orono (1993).
A.A., School of Engineering Technology, University of Maine, Orono (1996).