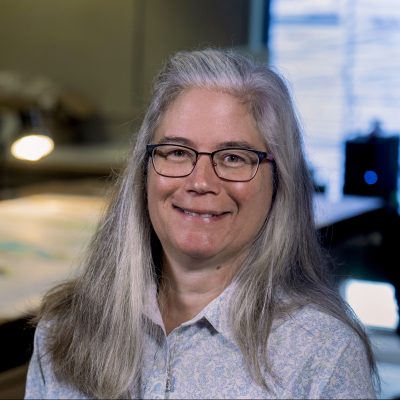 Stephanie Phillips
Photo Interpreter
stephanie.phillips@sewall.com
Stephanie Phillips holds a BS in Biology (concentration in Marine Biology) and an MS in Plant, Soils, and Environmental Sciences, both from the University of Maine. She spent most of her earlier years trying to decide if she wanted to focus on forestry or marine science. She decided on forestry with a concentration in remote sensing and GIS. She did a stint at UPS, working as a part-time Dispatch Supervisor – because it involved a lot of GIS type work. She has been a photointerpreter and GIS technician at Sewall for the past 9 years.  She has worked on projects in multiple departments and enjoys working on these diverse projects.
Stephanie lives in Old Town with her husband, two children, dog, two cats, many hand-raised chickens and every year or so, pigs and turkeys.  She has found she hasn't changed much
since childhood, as she still takes a walk in the woods every day with her dog, a habit that started in childhood. She spent 6 years on the RSU 34 School Board and 3 years on the Board
for the Maine Forest and Logging Museum. She found both positions to be challenging and enlightening.